Nechako Valley Exhibition Society
M. R. Concepts has worked with the Nechako Valley Exhibition Society since 2002, primarily with web and print design projects for their annual fall fair.
Projects include:
Website (www.nvesociety.com)
Web Ads
Booklets
Posters
Pamphlets
Newspaper Advertisements
Forms
Website
Built and maintain website.
Web Ads
Designed ads that are found on the NVES website.

Booklets
72 page annual booklet. Co-ordinate project.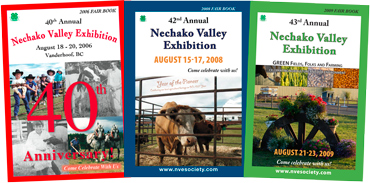 Posters
Designed numerous posters for various NVES events.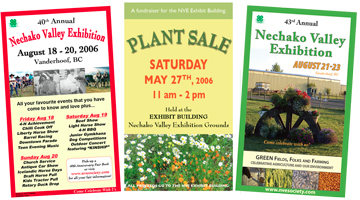 Pamphlets
Event schedule for annual fall fair.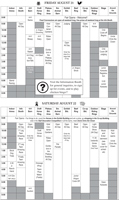 Newspaper Ads
Designed 1/4 page newspaper ads for fall fair.
Custom Forms
Designed various customized and .pdf-fillable forms with individual letterhead logos.