District of Vanderhoof
Projects completed for the District of Vanderhoof include numerous posters, multi-page brochures and pamphlets, one 42 page booklet, a community trail guide brochure, and a trade booth display.
Projects include:
Website (www.vanderhoof.ca)
Vanderhoof Community Trail system design and graphics
Campaign Series of Materials
Newsletter (editor and designer)
Tradeshow Booth Display
Communication Booklets
Posters
Pamphlets
Brochure
Vanderhoof Community Trails
Designed logo for overall Vanderhoof Community Trails system as well as trail signs, educational panels, and trail tour cards for different sections of the trail system.


Trail Cards
Series of 5x7 double sided informational cards.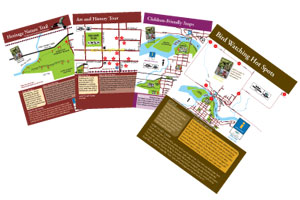 Kiosk Panels
3' x 4' Roadside informational panels.
Nature Guide of the Nechako Valley
Researched, wrote and designed this 32 page nature guide to the Nechako Valley. The book covers the animals and plants seen in and surrounding Vanderhoof.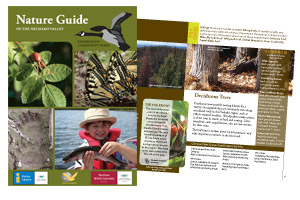 District of Vanderhoof Website
Re-vamped the entire District of Vanderhoof website.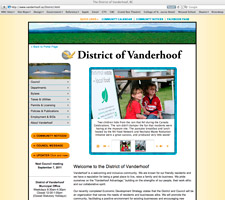 Bid Campaign
Designed a series of promotional materials for a bid campaign. Materials included a pamphlet, 52"x72" and 36"x30" displays, 1.75" buttons, campaign logo.
Monthly Newsletter
Editor and designer of the monthly District of Vanderhoof newsletter. The newsletter is distributed throughout the community.
Tradeshow Booth Display
12'x8' display for tradeshows and fairs. The display is designed to be udpaded in the future, or to be reused with other displays.
Communication Booklet
A communication document for the District of Vanderhoof. 12 pages. M. R. Concepts coordinated the photoshoots for the images used in the document. Text was edited by M. R. Concepts.
Fold-out Brochure
16"x17" tri-fold colour brochure. This community trail guide has a map of Vanderhoof and area on the reverse side. Text was edited by M. R. Concepts.
Booklet
Completed the 2006 update of this 42 page booklet annual publication.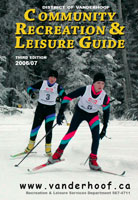 Poster Series
Designed series of 11"x17" colour posters that for Youth Rec Days in 2006, here are two examples.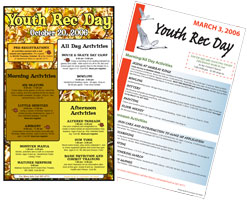 Multi-page Pamphlet
Designed multi-page schedule of events for the community summer recreation programs. Project completed 2007-2009.